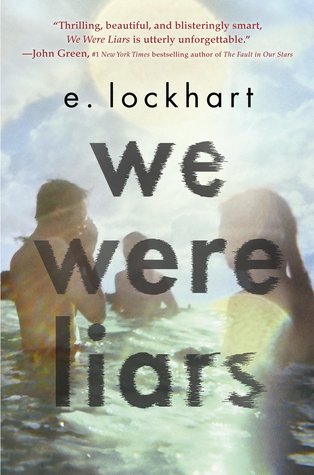 Book: We Were Liars
Author: E. Lockhart
Format: Hardcover
Own or borrow?: Borrowed from library
Published: May 13, 2014
Publisher: Delacorte Press
A beautiful and distinguished family. A private island. A brilliant, damaged girl; a passionate, political boy. A group of four friends—the Liars—whose friendship turns destructive. A revolution. An accident. A secret. Lies upon lies. True love. The truth.[Via Goodreads]
I'm glad I went into this not thinking it's a mystery novel. I would have been seriously disappointed and would have dropped it. I repeat: this is not a mystery novel. That doesn't mean it wasn't good, but it should not be touted as a mystery book when it's not. But even though I went into it with that, I just couldn't connect with this book.
The Good:
- The ending. It was the strongest part of this book. I remember the ending better than I remember anything else about this book. I didn't see it coming and I enjoyed it, unfortunately it didn't help much how I felt about the book.
- They live on a private island. I can't really explain why, but I love the idea of private islands and getting away for a summer. I saw it in the Summer series by Jenny Han, Night Film by Marisha Pessl, and And Then There Were None by Agatha Christie.
- The writing. I know a lot of people didn't like it
because it would
randomly turn into a prose type
of book and people, just didn't
like that. I can see why they didn't, but I
just thought it was interesting. I also realized that this was usually the most important parts of the book and that made it stand out.
- It was a quick easy read.
The Bad:
- I thought the characters were weak. It says a lot that I'm having trouble remembering their names other than they were called "The Liars." I didn't identify with any of them and I didn't particularly like any of them.
- They were just spoiled brats. If people were saying this book were about a large group of uber rich people that are fighting over grandpa's inheritance, then they'd be pretty spot on. I have no problem with reading about rich people. I LIVE for that, but these people were all just whiny brats because they weren't getting their way 200000% of the time.
- By extension, it annoyed me that this book is called a "mystery book." We don't even know there is even a mystery involved until the end of the book and by then we know what happened.
-
There were just too many characters and I didn't feel any connection at all so it was rather boring
- There was no character development. Sure, the MC changed a little, but I wouldn't say it was character development
- Again, this is not a mystery book. I can only imagine what I would be saying if I thought it was.
Additional thoughts: Really, overall, it wasn't a horrible book. I didn't hate it, but I didn't love it either. I've read better and I've read worse. Would I read it again? No probably not. Would I recommend it to someone? I would, if they asked for this type of book/genre. Now that I'm done with it, I can see why the blurb is so vague. There isn't really a way to describe the book.