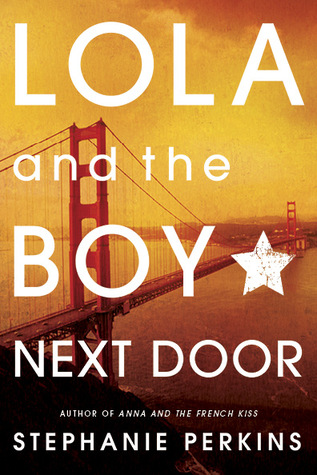 Book:
Lola and the Boy Next Door
Author:
Stephanie Perkins
Series:
Anna and the French Kiss #2
Started:
August 5, 2014
Finished:
August 7, 2014
Published:
July 9, 2013
Publisher:
Speak
Lola Nolan is a budding costume designer, and for her, the more outrageous, sparkly, and fun the outfit, the better. And everything is pretty perfect in her life (right down to her hot rocker boyfriend) until the Bell Twins, Calliope and Cricket, return to the neighborhood. When Cricket, a gifted inventor, steps out from his sister's shadow and back into Lola's life, she must finally reconcile a lifetime of feelings for the boy next door. [Via Goodreads]
Dear Stephanie Perkins,
Thank you for including Anna and Etienne in this story without drowning out Lola's story. Thank you for adding them to the story but also making us know at all times that this is Lola's stories and not an extension of Anna's. You wrote San Francisco as wonderfully as you wrote Paris and sure, there isn't a beautiful Eiffel Tower or old creepy cemetery, but you didn't need that to make this story beautiful. Thank you for making Lola different than Anna. Lola is her own person and I'm sure Isla is too. Lola and Anna are two completely different people. I was worried that I would feel like I was reading the same book two times in a row, but I knew I wasn't. I could tell the obvious differences between Lola and Anna. So thank you for making different characters so so many different girls can feel connected to the characters. A+ books for an A+ author.
Dear Lola Nolan,
Thank you for always being yourself. Thank you for being faithful. You are a fun character. You made me laugh. You made me cry. I felt like I could easily be your friend. Lola, you are smart and strong. You know what you want and you go get it. There were times where I wasn't sure that we would get along, especially when you were rude to Calliope but that's my only complaint. Other than that, you were the perfect character for a perfect book. I can't wait to hang out with you again.
Dear Cricket Bell,
*blushes* hi. Thanks for being literally perfect. You're the closest thing to a book boyfriend I've ever had. You're nice and funny and just try to make everyone happy. You're kinda goofy but in a totally sweet way. You and Lola are adorable. You get along so well but you also have your differences and I like that about you two. Thank you for loving Lola and letting her be herself.
Dear Lola and Cricket,
THANK YOU FOR TAKING YOUR TIME. This was not insta-love. I could feel the relationship growing slowly and it made me so happy when you two finally got together. Can I see more relationships like yours? This was a healthy and fun relationship that just filled me with joy and happiness and the way new puppies make me feel.
Seriously, if you like fun, witty characters that aren't super insta-lovey: this is the book for you! I am so glad that I read this book.Still crying about not having Isla yet, though. This is such a fun series. One of my top series I've read this year.
I should mention that you should probably read Anna and the French Kiss prior to reading this. They are companion novels, but it just fits better if you read Anna before!